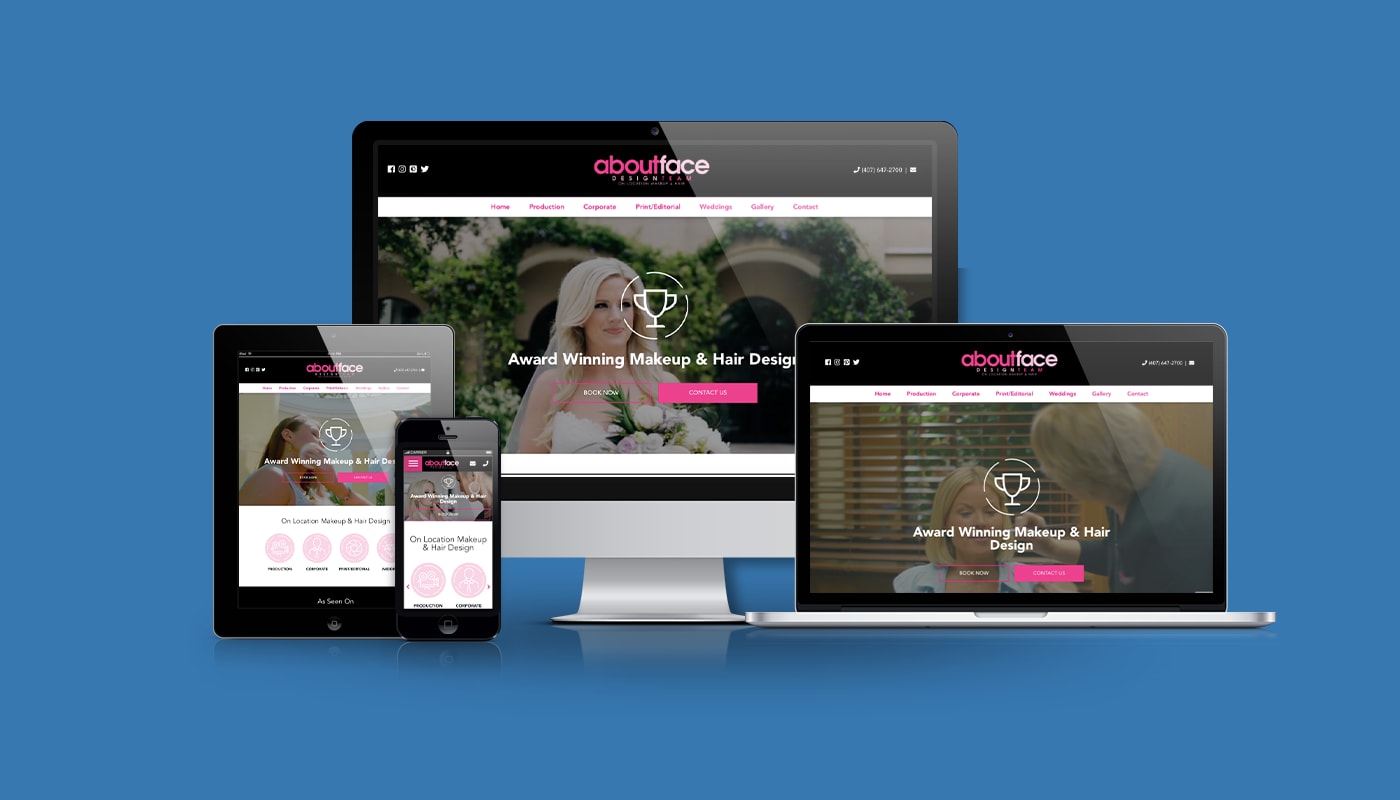 About Face Design Team Provides Award Winning Makeup & Hair Design
About Face Design Team (AFDT) was founded in 1994 to provide professional makeup & hair services for different industries and needs. The owners, Kari Larsen and Gina Schmidt, have stated their motto as "Professional service with a standard of excellence every time!". AFDT provides services in the following ways:
They have worked with a number of high-profile TV and film personalities, along with small and large corporations, magazines, editorials, and brides! If you are ever in need of professional makeup & hair services then they are the go-to option for on-set and on-location services.
Auxilia designed & built their website and implemented a lead generation program
When Auxilia first began the process of designing AFDT's new, custom website, we wanted to ensure that there were clear SEO pages designated. Each of their services needed to rank for that service's keyword fingerprint. We clearly defined their pages (as listed above) and began the process of writing well-researched content. We also took their existing blogs and combed through them to ensure blogs weren't keyword cannibalizing their SEO landing pages. This ensured that from a content perspective, this new site would perform well on Google and with the individual users.
Secondly, we wanted the site to represent visually the high-quality work that AFDT does. This would fall under the category of user interface and user experience. Regardless of what page a user entered the site, we wanted them to be able to navigate the site with ease. Also, we wanted the site to really showcase the quality of work AFDT does. They provide the best service in the industry and we wanted that to be represented. Our creative designer came up with a complementary color palette and layout that clearly outlined how they can serve those in need of professional makeup services.
Thirdly, we wanted to give the users multiple methods of converting into potential customers. Thus we added multiple areas within each page to give the user the ability to call or email with a simple click. On this note, we have implemented a custom SEO plan and Google Ads plan to help AFDT increase their exposure, to gain potential customers, to measure conversions or leads and their source (organic, paid, social, etc.), and to come to understand what their client acquisition cost is.
Visit their website.